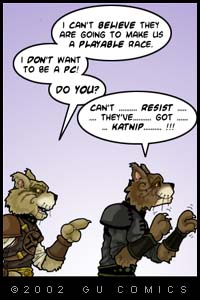 Stonebrunt Mountains - Cherries for Miranda
The quest is able to be completed with someone of apprehensive faction or better. Reward for the quest is experience, faction, and one or two Kejek Catnip.
Miranda wants a Chocolate Marr Cherries
This is a Snack
WT: 0.6 Size: SMALL
Class: ALL
Race: ALL
.
She is located at about 1170, -480 in Stonebrunt Mountains, just south of the campfire in the Kejekan village.
Give her a single cherry and the following occurs:
Miranda claps her hands with excitement 'Chocolate cherries!! My favorite!! Here try some of this!!'
Your faction standing with Kejek Village got better.
Your faction standing with Peace Keepers got better.
You gain experience!!
Reward is faction, experience, and a pouch (or two) of Kejek Catnip. Pouch of Kejek Catnip is a meal that grants STA -1, WIS +5
Created: 2003-05-28 08:58:34
Last Modified By: Krazick DB Master
Last Modified on: 2004-08-03 11:44:46
---

© 2003-17 Niami Denmother.
The fine print. This is a research and information site. All of the information on this site has been gathered and submitted by the players and Niami Denmother. While we try our best to keep the information here as accurate and up to date as possible, rely upon it at your own risk. By submitting information and graphics to this site, you are granting us permission to use the materials in any way that we deem appropriate. EverQuest is a registered trademark of Sony Online Entertainment LLC. Except as is disclosed on the "about" page, this site has no official connection with EverQuest or Sony Online Entertainment LLC. All information, articles and graphics on this site are the copyright of EQ Traders Corner, its owners and/or Sony Online Entertainment LLC and may not be copied or reprinted without the express written approval of the copyright holder. This site is not meant to represent official EverQuest (SOE) policy, and we are not responsible for errors and/or omissions that occur due to changes in EverQuest trade skills or information that we recieved from the community that is in error.
Hosted By: